Free Today

Free

Free Shipping on Qualified Areas

Free

Free Pre-Delivery Inspection ($99 Value)

Free

Delivery Notification ($15 Value)

Free

Manual Handbook & Tool Kit ($29 Value)

Free

MSO/MCO Registration Documents ($55 Value)

Free

Standard 3 Months Warranty ($49 Value)

Free

Life Time Toll Free Technical Support(priceless)

Free

Liftgate Service($45.00 value)

Free

Residential Service Fee ($45 Value)
Volume Discount
Buy
You Save
Code
2
$50
BUY2
3
$75
BUY3
4
$100
BUY4
5+
Call us for amazing discount !
Titanium

150cc Kids UTV

SKU:UTV001

Icebear UTVs, Automatic with Reverse, Air and Oil Cooled, Foot Activated 4 Wheel Hydraulic Discs, Protective Screening

List price:$4399.00
Valentine's Sale Price: $2379.00 You Save:$2020.00 ( 45.92% )

Financing Available

Layaway Available
Description
The Titanium Youth UTV will put a big smile on any kids face! This quality designed 4-wheeler is compact, yet powerful! Safety features include a protective roll cage and grab bar for the passenger. Great for kids and teens, they will never want to stop riding as the Titanium is one very fun automobile!
Remember
1. Based on the vehicles' nature and intended use, it is strongly recommended that assembly and PDI be performed by trained, licensed mechanics.
2. All units, including those which have been fully assembled, are subject to unforeseen conditions during transit. All units must be inspected prior to initial operation in order to prevent unnecessary damage and ensure a good riding experience.
Due to excessive delivery rates to certain areas in the states of East Coast, HI, and AK, a freight charge may be required. Please call in for a quote.
Top Features
Automatic with reverse
More maneuverability provided by automatic with reverse.

Spacious legroom
Designed for teenage kids; fit 2 people comfotably.

Air + Oil cooling system
Advanced cooling system!

Hydraulic Disc Brake System
All foot activated, easy to apply for safety.

Spacious Cargo Bed
This UTV offers a generous cargo bed with a great capacity.
Specifications
Engine
Engine Type
CVT, Single Cylinder, 4-Stroke
Displacement
150cc
Bore and Stroke
2.26 inches x 2.28 inches
Horsepower
9.2 hp
Ignition
CDI
Maximum Speed
34 mph May vary depending on road condition, rider weight etc.
Battery
12V/7AH
Starter
Electric
Cooling
Air and Oil Cooled
Compression Ratio
9.5:1
Make of Engine
JINLANG
Drive Train
Transmission
Automatic with Reverse
Drive System
Chain
Chassis / Suspension / Brakes
Wheel Type
Steel
Front Suspension
Spring
Rear Suspension
Spring
Front Brake
Foot Activated, 4 Wheel Hydraulic Disc
Rear Brake
Foot Activated, 4 Wheel Hydraulic Disc
Front Tire
19 x 8
Rear Tire
20 x 10-9
Dimensions / Capacities
Length
89 inches
Width
48 inches
Height
55 inches
Wheelbase
65.0 inches
Seat Height
19.7 inches
Ground Clearance
6.0 inches
Net Weight
540 lbs
Gross Weight
683 lbs
Weight Capacity
330.26 lbs
Fuel Capacity
2.5 gal
Fuel Economy
39
Engine Oil Capacity
0.26 gal
Other
EPA Approved
Yes
Assembly Required
Shelf Bend Tube, Seat, Protective Screening, Armrest
Accessories
Instruction, Certification, Drop, 1 Batterypulltie, 4 Batterycushion, Small Cover Of Steering Wheel, Barometr(American Standard), Bolts of Shelf(2M8*55 Hexagon Bolts, 2m8 Self-Locking Nuts, 4 Shelf Fixed Block, 4M8*16 Hexagon Bolts, 4M8*30 Bolts, 8M6*16 Hexagon Bolts), 2 Rear Dust Cover.
Why MMM
Why Buy From MMM
At Mega Motor Madness we sell fun! All of our products are built with three main objectives in mind: To provide quality, innovate and affordable vehicles and accessories to motorsports enthusiasts all throughout the United States. We offer a diverse product line that includes ATVs, scooters, trikes, street bikes, UTVs and electric motorcycles. We pride ourselves with an excellent team, that is very knowledge about our products and available for all of your customer service needs and wants. You won't be disappointed!
Lowest Prices, Guaranteed!
With over 100 different models to choose from, we at Mega Motor Madness are able to offer affordable motorsports products and accessories for the beginner to the most advanced riders. All of products come directly from our factory and we stand behind our prices 100%! If you find the same product somewhere else at a lower price, we will credit back the difference to you! No questions asked.

Fast Shipping
At Mega Motor Madness we sell fun! We also know you want your new new "toy" quickly! That is why we offer fast shipping to the lower 48 United States. Once payment is confirmed and received, you should be receiving your product anywhere between one and six business days depending on your location within the country. If you have any questions or would like us to track your package please call 1-855-623-6686. View More >>

Customer Service Is Our #1 Priority
No matter when you purchased a product from Mega Motor Madness, we will provide it with lifetime technical support. We aren't here just to sell you a great product, we are here to answer any and all questions you may have about it. Call our toll-free number at 1-855-623-6686 to speak with one of our professional techs to get all your questions answered and any problems you should have solved!

We Use Only The Finest Parts
At Mega Motor Madness safety is our number concern when manufacturing all of our products. That is why all of our parts are made with the finest quality and inspected with highest standards. Before we ship any product to you, we inspect and go over it thouroughly from top to bottom. We also offer the option to ship your new motorsports product, fully assembled for your added convenience.

Our Website Is Safe and Trusted To Buy From
We know you are skeptical when putting your financial information over the world wide web. At Mega Motor Madness, finances and identity are extremely important to us as well. All purchases made from our website are made securely using Trustwave SSL Security ordering and an Authorize.Net payment gateway. We also offer Paypal as a payment option for your convenience.
Why Buy a UTV?
A UTV is an off-road four-wheeled vehicle that can help you to complete work or tasks. UTV's ease of use and low cost make it more popular. If you are using or considering the purchase of a pickup truck or tractor for your off-road tasks, you may want to ask yourself if you'll utilize its full capabilities, or whether you're paying for extras you don't need. UTVs are easy to operate.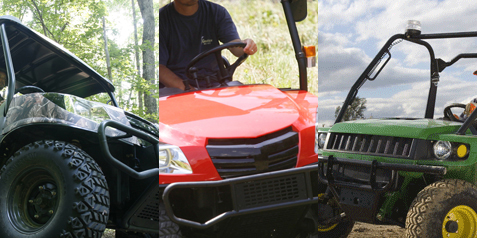 Many jobs are completed by one or two people with a few tools and materials. These jobs don't require fast, heavy, high capacity, not to mention expensive, equipment such as trucks and tractors. Utility vehicles are compact, safe, require little training, and are easy to use - all at a fraction of the cost to buy, maintain, and insure a larger vehicle.
Utility vehicles can easily carry two people, their tools, supplies or materials, and a modest trailer to their destination easily. They are lightweight, easy to ingress and egress, and consume little fuel (or electricity). And you can add to their capabilities with countless accessories and upgrades like lighting, protection from the sun, racks & storage, power assist, tires & wheels, winches, mirrors, ground clearance, and many more.
Rating
Reviews
Ethane Farrant

rossiel angela

Vermont

popyang richell

Iowa

Jucy calender

Kentucky

Jacob Ellerbee

Missouri
Product Questions & Answers
Do they come with a window?
Dorothy Hunt on February 9,2015
No, UTV003 has. http://www.megamotormadness.com/product/utv003-150cc-utv
MegaMotorMadness February 9,2015

useful( 1 )
How easy is it to get parts? If I live in Colorado where do I get parts?
Brent Montgomery on January 2,2016
We provide parts for the lifetime of your UTV, if you purchased it from us.
MegaMotorMadness January 5,2016

useful( 0 )
Can they get on the water? How deep on the water can they go?
hector on August 24,2015
yes but the water must not be above the exhaust
MegaMotorMadness August 27,2015

useful( 0 )
is it regular gas???
Nate on July 24,2015
Yes.
MegaMotorMadness July 26,2015

useful( 0 )
What is the max weight?
Nick on July 17,2015
330.26 lbs.
MegaMotorMadness July 21,2015

useful( 0 )
How fast is it
Chase on June 19,2015
This Model has a top speed of 34 mph
MegaMotorMadness June 24,2015

useful( 0 )
This unit runs on gas or what
Maxine on October 11,2014
Gas powered.
MegaMotorMadness October 11,2014

useful( 0 )
I have 2 kids, boy 12 and girl 5 1/2. Is this UTV to small for the boy and to big for the girl? I would line both of them to be able to drive it. Thanks.
Ryan on October 15,2013
The age limit is 12 years and up for anyone who rides them. If you have any more questions please give us a call @ 855-623-6686. Thank You!
MegaMotorMadness October 16,2013

useful( 0 )
Do you have the 6 inch longer version of this utv?
Erik on August 14,2013
Hi, this one is 89 inches in length. We don't have other 150cc UTV.
MegaMotorMadness August 15,2013

useful( 0 )
Sir-where,s you're,s heavier utv,s?
Sam mayberry on August 12,2013
Hi, we are located at CA. It takes 7-10 days to deliver the UTV to your door.
MegaMotorMadness August 13,2013

useful( 0 )
if I were to by this for a 12 year old and he weighs on 70 pounds how much would that effect the max speed? also are there , and upgrades to this like more performance or would I have to by it on my own?
nick on June 11,2013
the max speed would not be affected. as for upgrades you would have to buy them on your own.
MegaMotorMadness June 11,2013

useful( 0 )
Can an adult fit in this vehicle?
Jennifer Schmid on April 13,2013
i think the height limit is about 5'7" . im 5'10. and can fit in it but not comfortably
MegaMotorMadness April 15,2013

useful( 0 )
if i order this would it be fully assebled? and if i order 2 how much would it be in kinda confused and in the state of pa can i ride this on state lands?
benjamin reber on February 26,2013
Units come 80% pre assembled (FREE), Assembly Required: Shelf Bend Tube, Seat, Protective Screening, Armrest . FOR FULLY ASSEMBLED 100% their is an extra fee of $199.00
MegaMotorMadness February 26,2013

useful( 0 )